Check out our entire range of fresh, delectable products to suit every need.
"Shezan Jam is full of the flavor of fresh fruits and is the best thing about breakfast at home"
-Hussain Qasim
"Every Shezan product is jam-packed with the true flavor of the nation. We Love Shezan!"
-Aimen  Shahid
"Shezan Mango Juice always takes me back to childhood days"
-Hannan Asif Akmal

We aim to create a profitable relation with all our stakeholders. Learn more about how we operate.

With their consistent hard work and a passion to serve our customers, our team proficiently deals with all areas of functionality and ensure smooth governance.
Our stakeholders are an integral part of our value chain, who contribute to the growth of the company with their persistent endeavors.

The ingredients are creatively mixed and developed into new flavours. Shezan sculptures these new flavours into innovative products.
As a globally acclaimed brand, Shezan has a reputation which is strongly guarded by awards, certifications, titles and numerous other outstanding achievements.

Add a touch of Shezan to your recipes for mouth-watering, delicious food bound to please your taste buds.

Ingredients
 Mutton(small pieces) : 1 kg
 Yogurt: 1/2 kg
 Tomato Paste: 1 cup
Garlic Ginger Paste: 1 tablespoon
 Red Chili Powder: As required
 Shezan Table Salt: As per your taste
 Green Chili: 50 grams
Cooking Oil: 3/4 cup
Shezan Satrang Pickle in Oil: As required
Kalunji: As required
 Saunf: As required
 Zeera(Cumin): 1 Teaspoon
Fenugreek Seeds (Methi ke beej): As required
Description:
First make the mixture of ginger, chili powder, Shezan Table Salt, garlic and yogurt.
Now soak the meat in the mixture for 2 hours.
Heat the oil, put the spiced meat and fry until spices are separated.
Add water and cook on low flame until the meat is tender.
Add 1 teaspoon salt to Shezan Satrang Pickle.
Slit green chilies vertically from one side and take its seeds out.
Now fill green chilies with ground spice..
When the water dries out from meat, pour tomato paste, garnish cooked meat with stuffed chilies and put the Shezan Satrang Pickle in it.
Now lower the heat and leave it for dam until chilies are tender.
AcharGosht is ready to eat!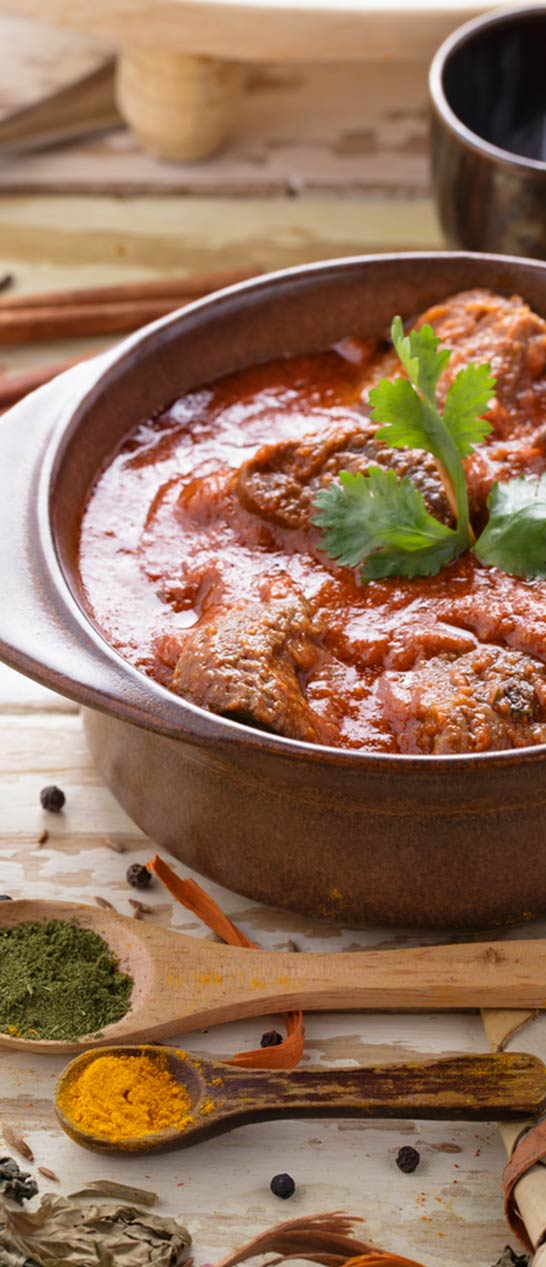 Learn what goes on in the world of Shezan.
We owe our success to not only our shareholders but also to all our stakeholders that includes everybody from...
With a number of star products under their belt, Shezan International has managed to win over many hearts with...
Recognized internationally, Shezan International Limited has been providing their customers products of great quality and exceptional taste. Initiated as a...
Our Company is the best, meet the creative team that never sleeps. Say something to us we will answer to you.